News
From 2020-03-15 to 2020-03-28
Third Sunday of Lent
After the people of schechem encountered Jesus, and he lived among them for two days, these "despised foreigners" said: "no longer does our faith depend on your story. We have heard for ourselves, and we know that this really is "the savior of the world" -- the final and crowning title for Jesus. Isn't it true that we got our faith like the people in the village? We believed through the word of someone else about God/Jesus: our parents, family, teachers, -- then, we later came to believe in Jesus.
Isn't it consoling that Jesus uses imperfect people like them and the woman and you and me as his apostles to continue his evangelization? The work of RCIA is not to be construed as the work of perfect people. It is through you and me -- especially you who have more contact with folks of other or no faith -- to draw people to our faith.
In the first reading, we heard that God used a stone to provide water. In the Gospel story, Jesus, from the stone of her heart, struck living water through his compassion and gentle teaching / presence.
The only thing that can keep us away is the hardness of our hearts. God has found us. Do we soften our hearts to receive him? To listen to him? To ask his forgiveness? To grow in love with him? To carry his love to others who are not aware of him?
From 2020-03-07 to 2020-03-23
Second Lent Sunday
Second Sunday of Lent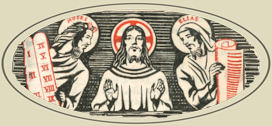 "Behold, there appeared to them Moses and Elias talking together with Him" (Gospel).
Last Sunday we beheld Jesus as Man, suffering and conquering the three temptations. Today a faint glimpse of Jesus as God is a further Lenten incentive against discouragement or failure.
We behold Moses, the lawgiver, pointing to the code of the Ten Commandments; Elias, the prophet, pointing to the creed of Divine Truth. "This is the will of God. . .walking" in the way of His Commandments (Epistle, applying your mind to Divine Truth, so that "you (may) learn how to possess (your) vessel in holiness."
"Your sanctification (Epistle) is an interior obligation in your own private life; also exterior (Prayer), to the extent of helping your neighbor, for "the Lord is the avenger" of deception in everyday business (Epistle).
From 2020-03-01 to 2020-03-18
Lenten Prayer
Now the LORD came and stood there, calling as before,
"Samuel! Samuel!" 1 Samuel 3:10
You call us
and we ignore your whisper,
listening to the voices of this world.
You call us
and we choose a different path,
following our own devices.
You call us
to be your voice in this world,
to be your hands in this world,
to be your feet in this world,
to proclaim your peace,
your comfort,
forgiveness,
healing,
love
and grace.
Forgive us,
open our ears,
call us again,
and use us.